Thursday, 25 December 2008
Whatever you choose to celebrate, I wish you all a very safe & happy holidays.
Naomi xx
pic: europuppyblog.com
Wednesday, 24 December 2008
I must be dating the only guy who passes up the chance to have a peek at some of the world's most gorgeous ladies. I mentioned to The Boyfriend that the Victoria's Secret Fashion Show was on tonight and he told me he wasn't interested. It just started and he said he would rather study. Hmm.
Anyway, onto some beauty...
Check out Selita Ebanks hair - the layered bob suits her:
This was before: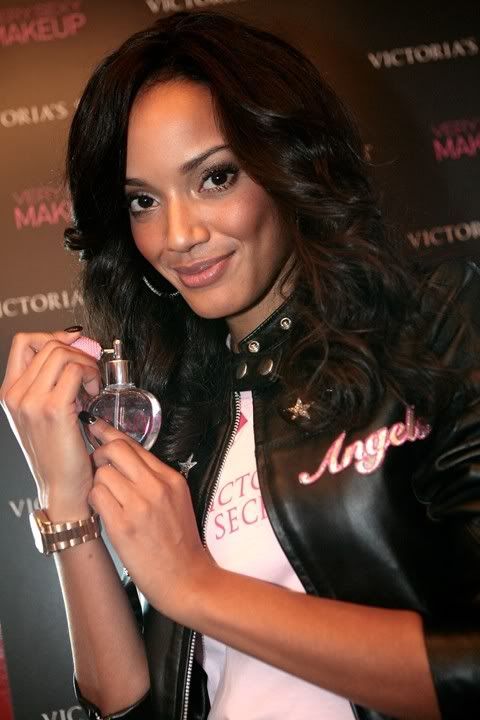 The VS girls show you how to make highlighting work for you -
Miranda Kerr shows you how to make your eyes POP:
Work a little pearlescent cream into the corner of the eyes. Try MAC
Cream Colour Base
in Pearl or
Shadestick
in Beige-ing. Hit the high points of your face (forehead, nose, chins and tops of cheek bones) for an all over glow.
Alessandra Ambrosio works her cleavage to her advantage by highlighting between
and
above her cleavage while bronzing the tops of her breasts to create depth:
Try
NARS Multiple
in Copacabana to highlight and NARS
Multiple Bronzer
or
Bronzing Powder
create contours.
Heidi Klum rocks the catwalk with a subtle sheen down both her legs. I wish I could look half as good as her, even without having 3 kids!
Try
Michael Kors Leg Shine
or
Tarte's Glam Gams
down the centre of your thigh and shins to create an elongated leg.
Highlighting everything isn't a look that many can carry off outside of a catwalk, so choose one feature and test it. I can't guarantee that you'll look like a Victoria's Secret model, but you'll look the best you can be :)
pics: all linked to their respective owners
Monday, 8 December 2008
I was shopping recently and saw a woman wearing these:
I'm not sure I have words for these things. Ok, I do - great for halloween parties. Fun for a night out with the girls. Maybe.
Not really something you should wear with a suit IMO...
Also available in camouflage, leopard print & a few other less exotic colour but nothing that couldn't be done with a couple of colours and a good brush.
ColorOn EyeEnvy is available at Sephora for US$25 for sets of 5